WHAT TO EXPECT
UNIQUE EXPERIENCE
You will be suited up in the electro suit consisting of a jacket, pants and arm electro pads. A trainer will lead you through a warm-up, a series of strength and core exercises followed by a recovery.

In our private studio you will find all safety precautions are taken as trainers wear masks, two trainers each working with a client at a time and plenty of space to keep the social distance.
THE TRIPLE 8 JOURNEY
TO RESULTS
In this rushing world, due to lack of time and energy we rarely pay attention to getting enough exercise. Now everyone can rush into a fit and healthier lifestyle with our 8X8X8 Journey.
8 Sessions to FEEL IT!
During the first 8 sessions, we will acclimate you to EMS and it will Hertz So Good as you are feeling the results taking place.
More Stamina. Less Stress.
Better Sleep.
8 Sessions to SEE IT!
The second 8 session, you will now be seeing the results with our regular fitness assessments and you will be telling us you Watts Some More.
Stronger. Core Strength.
Body Shape Change.


8 Sessions for OTHERS to SEE IT!
The third round of 8 sessions is when others will see and notice your results. Now you will be EMS Strong.
Confidence. Leaner. Happier.
WORLD-CLASS TRAINERS
SPECIALIZED IN EMS
EXCEPTIONAL CLIENT EXPERIENCES

We aspire to be the "Apple of Fitness": innovative, elegant, well managed, while making a contribution to the fitness industry.
We value serving our customers with an amazing team work effort.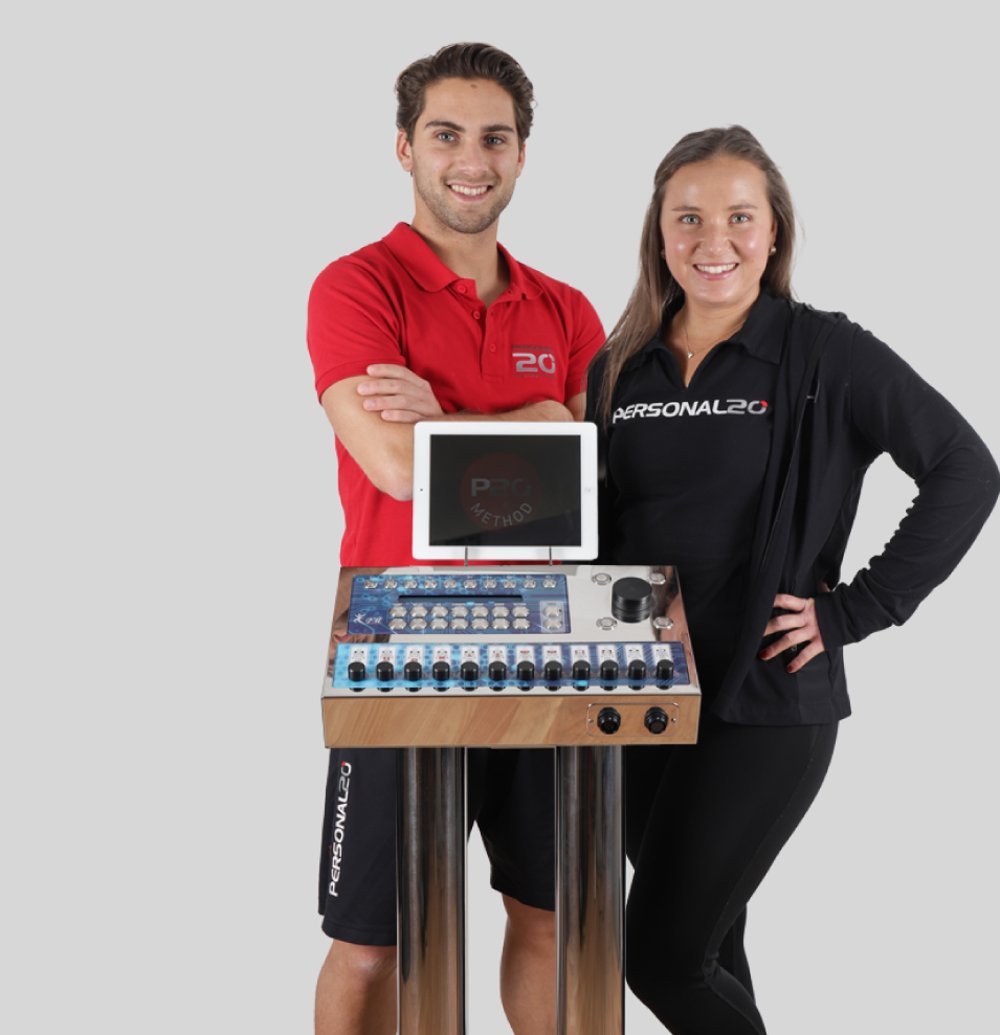 RESEARCH TO LEARN MORE
We rely regularly on Pub Med, a free search engine. The database is maintained by the US National Library of Medicine at the National Institutes of Health.
Want to know more?
For those of you who like to dive deep into the research, we provide you a head start here with a listing of some published studies. We recommend further research on Pub Med using the full name: Electronic Muscle Stimulation (Whole-Body).
FREQUENTLY ASKED QUESTIONS:
Are there any contra-indications that would prevent me from doing an EMS workout?
This training is not recommended for people with heart disease, pacemakers, or other implanted electric devices, during pregnancy or breast feeding period, or people with a predisposition to epileptic seizures or fitting.
Can I get an electric shock during the workout?
No, there is no way to get an electric shock during the workout as the equipment operates at low voltage using a battery. The intensity of the generated impulses is max.0.05 Watt RMS.
What is the difference between Whole-Body EMS and other muscle stimulators?
Most home use and other muscle stimulators are designed to be applied on passive muscles. During WB-EMS sessions muscle stimulation is applied on active muscles, combined with a sequence of trainer-instructed exercises using our exclusive P20 Method programs.
Do I need any particular training equipment?
No. At Personal20 we provide you with everything you need. You will receive the appropriate undergarments. Then we will dress you in the suit with electrodes that is light and made with antibacterial breathable material.